Simplify your management, centralize your reservations and boost your online distribution
Discover the video

of the solution
Fully-featured PMS
Flexible and scalable hotel property management system to perform all your operations: reservation management, invoicing, payment, emailing, client profile, accounting, reporting, revenue management, and more…
Integrated Channel Manager
Our Channel Management integration includes the leading hotel and travel companies: Booking.com, Expedia, Agoda, ATEL, RHN and more than 250 OTAs and GDS.
Online Booking Engine
Directly integrated with your hotel website, you enjoy a lovely online booking engine to allow your guests book on live availability and rates. Designed to adjust to all websites and to work in all modes.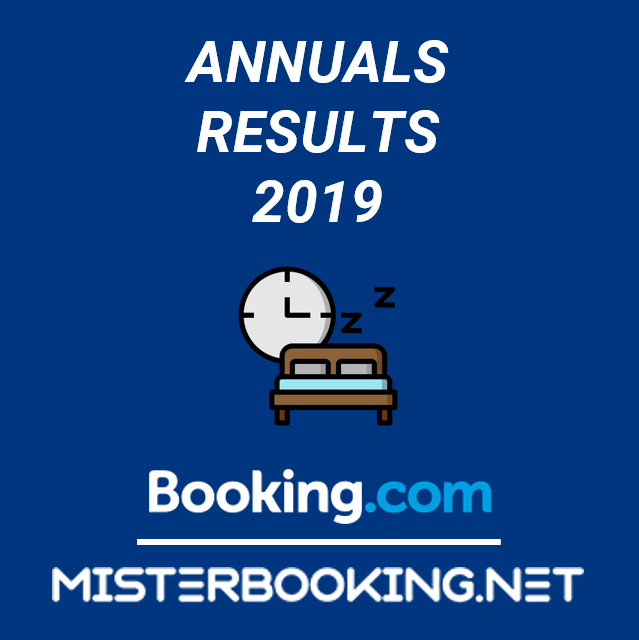 Annual results for 2019 between Booking.Com and our native Channel Manager in growth!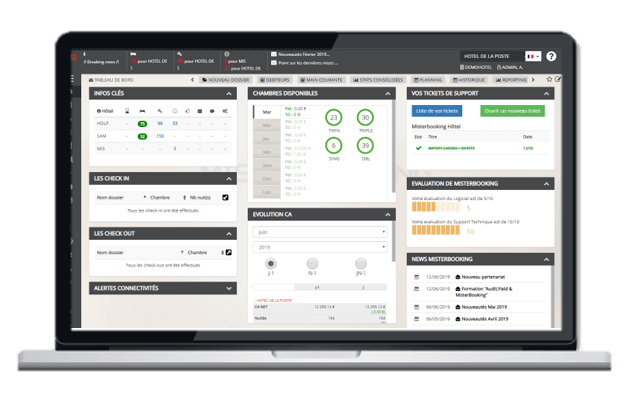 Cloud-based hotel software

for real-time management anywhere
---
One interface to run your hotel or property
Run your hotel from a single point of management using a property management system (PMS) with integrated channel manager and online booking engine to get full control of your rates and room inventory.
Flexible and high performance PMS
Every hotel staff member or hotel director can access online and seamlessly work using our collaborative and easy-to-use working platform. Compatible with PC and Mac. Our Property manegement system is Ideal for independent hotels as well as multi-properties offering multiple integrations and additional add-ons to fit your exact needs.
All-inclusive formula

for a great service
---
Channel manager and booking engine
Fully integrated with Misterbooking PMS, our channel manager and booking engine are free of commission. The online booking system URL can be integrated to any website. The channel manager enables direct control of all your distribution channels. Everything you need is included in your cloud-based property management system.
Support and more: Included in the service
We provide technical support and customer assistance to make sure you get the maximum value of your property management system. All updates, system maintenance, data storage, data recovery are provided and included in the service. No server or installation are required. Single annual cost including unlimited user profiles to reduce costs and extra charges.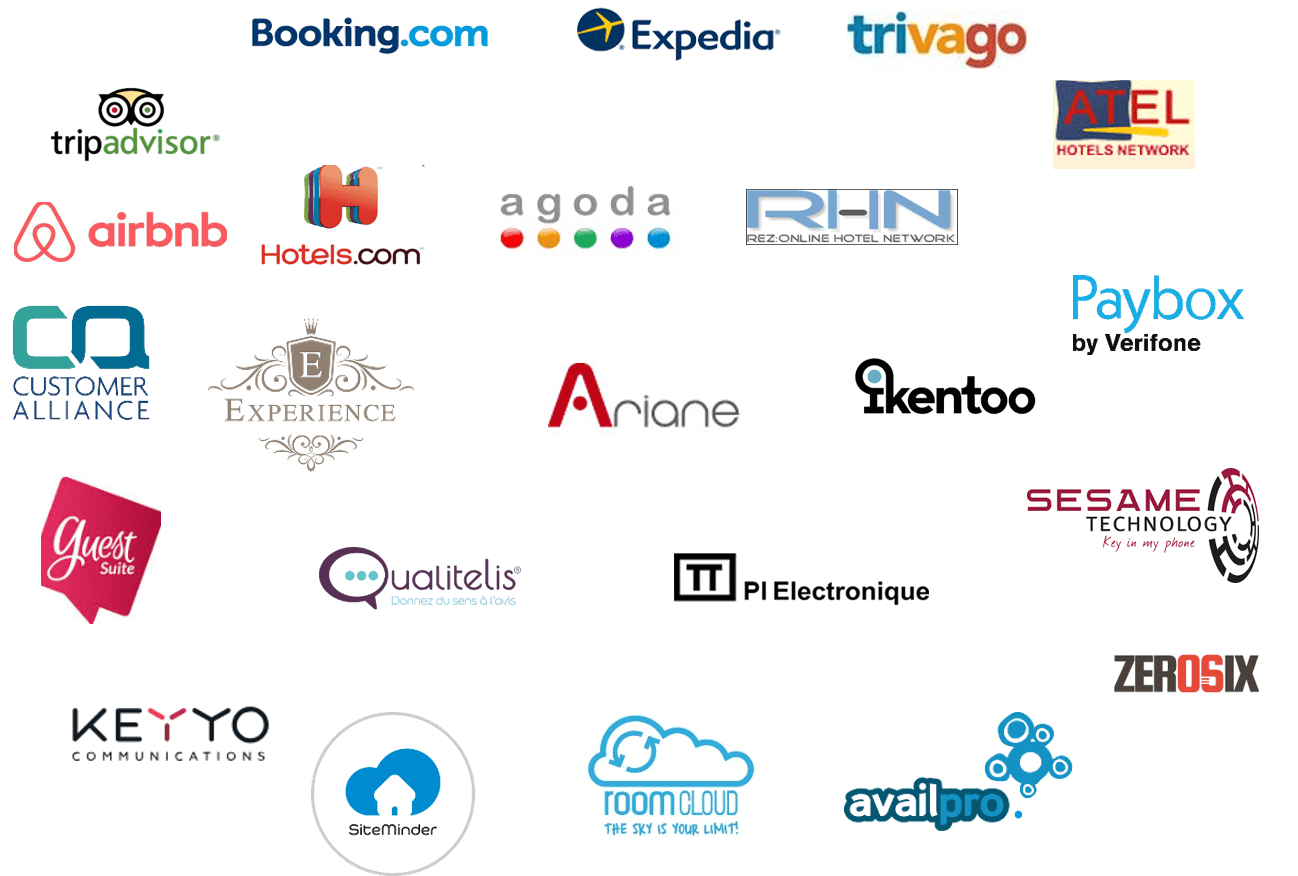 A LOT OF INTEGRATIONS

to suit your business
---
A selection of system integration
We offer a selection of third party software integration to connect your hotel to your desired vendors. Our hotel PMS integration allows you improve your business and reach the exact result you are looking for using efficient and integrated tools.
We develop new partnerships with a variety of vendors all the time based on the hospitality industry requirements and evolutions. We offer a range of additional services such as E-reputation, revenue management, Self check-in and checkout, Channel managers, Payment gateways, Phone services and many other services.  Check our list of partners for our property management system or ask us if you don't find your service provider.
What our clients
say about Misterbooking
Misterbooking is the perfect tool for managing my property. I can work from anywhere, I receive my reservations directly from my online channels and I don't need to check each of them. My website is also doing great as I have more and more regular customers. The Support team is always available and so nice that I feel they are partner rather than provider, I've got the right one!
We have selected Misterbooking among other PMS as we were looking for an efficient and high performance PMS to manage Korner Group hotels in Paris. We have been using another PMS with all basic features. However, we needed a scalable and innovative PMS to support our multi-properties.
After using Misterbooking for a month both Property Management System and Channel manager we realised that the human resource that became free is just HUGE. I have never experienced such a big efficiency improvement in so short time. I only can recommend their product as it is a real competitive advantage at a hotel.
Since we started using Misterbooking PMS with its integrated channel manager and booking engine, we manage our hotel efficiently. More than 25% of our reservations come from our website: we have increased significally the number of our direct bookings! We are really satisfied with Misterbooking services.
property management system
We have been running Misterbooking for over two years! The system is performing so great! All the features are designed to facilitate the management, plus the service is spectacular!
Since we started managing Villa Velvet using Misterbooking PMS, we are fully satisfied:simple and great features. We also have integrated Ariane Borne with Misterbooking PMS for self check-in and check-out any time and it is great!
In the hospitality world, client service is mostly provided  by call centers that can be more or less efficients, that's why it is highly important to work with a team like Misterbooking. Their contact is not only professional but also very human. This team always listens to your needs.
Who we are:
the team behind the software
"Our aim is to see you enjoying a great online management experience to focus only on enhancing your guest experience"
We are Hotel Property Management System provider based in France. With more than 15 years of expertise in developing only cloud-based hotel PMS solutions, we offer flexible and scalable options to adapt to every business requirements.