Cloud-based PMS Hotel Misterbooking
Optimize your multi-channel selling

Simplify your daily operations

Improve your guest experience

Automate your payments
Cloud-based PMS Hotel
Discover the most complete PMS Hotel with all the features you need ! Misterbooking offers a unique, modern and scalable interface to check all hotel operations.
Integrated channel manager
Manage your OTAs in your Cloud-based PMS planning with the native channel manager fully integrated to control your distribution in real time and maximize your occupancy.
Responsive booking engine
Boost your direct bookings and increase your revenue. Multilingual and responsive design, the Booking Engine Misterbooking is directly connected to your planning from your website, in real time.
Online pre-check-in
Improve your customer experience with our online pre-check-in and our guest experience module in the PMS. Automate administrative tasks and save time for your receptionist and your clients!
Payment automation
Secure your business, verify the credit cards and automate your payment according to your hotel payment conditions from the Cloud-based PMS Hotel Misterbooking.
Available API
Centralize all your systems in your Misterbooking interface. Choose the solutions you need in our preferred partners or invite new ones thanks to the Misterbooking API, available on request.
<< Back to news New product | Hotel website creation | February 8th, 2023 Misterbooking starts the year with a new offer: hotel website creation. Create your hotel website with our experts and take all the benefits of their experience and knowledge. You give us...
read more
Manage and
sell
Centralize your business management and your distribution channels in one unique interface.
More than a PMS Hotel, Misterbooking is a complete and effective hotel management system (HMS): a powerful tool to run all your hotel!
We note in our hotel community a same need: centralize tools and partners in one place. Misterbooking Coud-based PMS Hotel can be this place for your hotel.
First cloud-based PMS in France, Misterbooking has its own features: channel manager, booking engine, guest experience, online pre-check-in, payment automation, accounting data export module and even more! With Misterbooking solution, you control all reservations from your OTA, your booking engine or in direct in the same planning. In one clic, close a room in a channel to open it in another one and increase your revenue.
Moreover, our API can connect your hotel to all your preferred partners!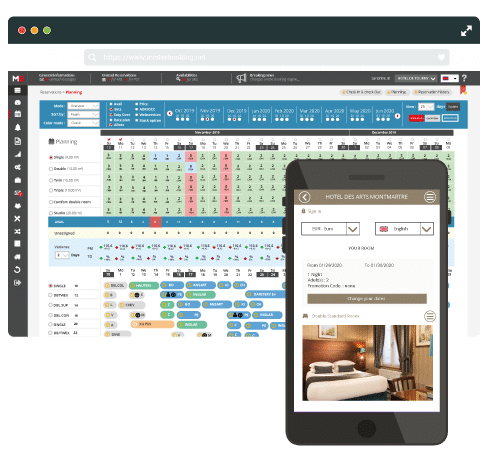 Optimize and
automate
Simplify your customer journey and your administrative tasks.
Clients change: They wait a personal welcome at front desk, to be called by his name, to be someone for the hotel, etc… Hospitality has to evolve too. Not only with online bookings but with a dedicated experience.
As pioneer in cloud-based PMS industry, we are experts in hospitality and hotel customer experience. Our cloud solution is scalable to follow market trends. We help you every day to go further!
With our native features, you can automate time-consuming tasks. Automation is the key to save time and reduce costs. An all-in-one solution as Misterbooking PMS Hotel is the tool that your hotel needs!
Personnalize your
hotel management system
Create a solution that meets your expectations and pay only what you need.
Each hotel is unique. Their needs depend on its activity.
We want to help you to use a software completely adapted to your hotel. Misterbooking cloud-based PMS is your perfect hotel management solution. Discover a Hotel Management System (HMS) on demand that fits your needs. Activate your PMS Hotel and pay only features that you use!
Moreover, we offer our 20 years of expertise to help you choose. We have transparent pricing four our PMS Hotel and all our modules: no commission fees by reservation, never. Set up fees and annual subscription will be the only lines of your invoice.
What our clients say about
Misterbooking PMS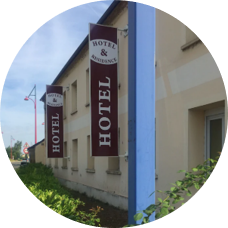 Sabrina, Hotel & Residence Avermes
France
"The software is easy-to-use and efficient. The technical team is great too! Always available, listening and very pleasant."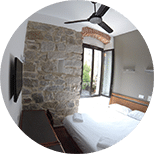 Bruno, Kalliste Hotel & Residence
Ajaccio, Corse, France
"Misterbooking allows us a fresh start in the way we work with a PMS and a Channel Manager. Thanks to its easy-to-use and scalable solution, Misterbooking has made this season a success."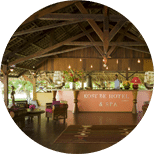 Ross, Nosy Be Hôtel & Spa****
Madagascar
"Always available, very reactive!!!! Thank you to all the team."