Manage your online distribution in one unique interface
Channel Manager native &
online distribution
Connect your hotel to all the online distribution from your PMS interface!
With Misterbooking integrated Channel Manager, you have full control of your online distribution channels. That is easier! This is very important to increase your online visibility and drive more bookings. The process is simplified as you manage all your inventory, rates and restrictions, for all your channels or for each channel, from one unique interface.
Misterbooking is a commission-free Channel Manager. We offer a direct connectivity to the leading Online Travel Agencies (OTA) such as Booking.com, Expedia, Agoda, Atel, RHN, and more than 250 Online Travel Agencies (OTA) and Global Distribution Channels (GDS) through our partner RoomCloud: HRS, Hotelbeds, Orbitz, Splendia, Atel, Prestigia, Hotel.de, Lastminute.com, Laterooms, Weekend Desk and many other distribution channels… Bookings are automatically imported into Misterbooking PMS and availabilities are instantly updated.
For more information about OTA and GDS integrations in Misterbooking PMS Hotel, contact us!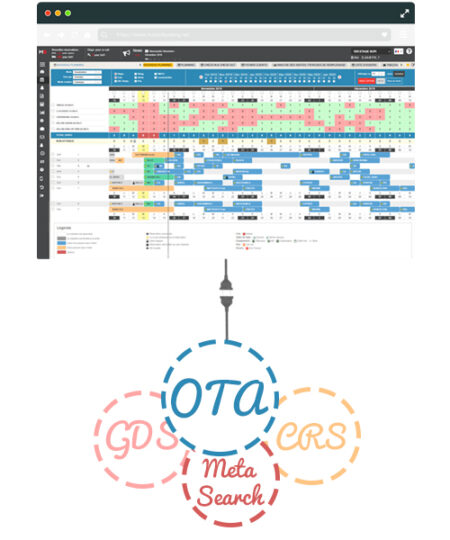 Manage all your distribution
in one unique interface
The Channel Manager is a native module in Misterbooking PMS to manage both your hotel operations and your online distribution. This tool allows you to centralize all your connected OTAs in one unique interface: your PMS interface. It helps you to control your prices and your availabilities from the PMS to the Channel Manager, in real time. No need to go to your OTA account to update your sales. A high-performance tool to easily modify your data and save time!
A centralized hotel management system offers you a full control on your hotel: PMS for daily operations, booking engine for direct online bookings and channel manager for OTAs. What's your advantage? You will be more reactive to sell every available room. With few clicks, you update the inventory, after a no show for example, and you reallocate the room in your selected channel.
Read more about the difference between a native channel manager and third-party integrated channel manager in our blog by clicking here.
What are the benefits of
Misterbooking integrated Channel Manager?
Commission free
Increase your visibility and make great value! 
Your reservations are free of commission with Misterbooking Channel Manager. No commission or additional fees are charged for transactions. 

Connection in 2-ways
The planning is updated and you avoid overbookings! 
Misterbooking offers seamless connectivity and accepts all bookings from your chosen channels. Booking details are automatically imported to the PMS Hotel.
Bookings Sync
Channel Manager fully integrated with Misterbooking PMS Hotel! 
Retrieve all your guest reservation details, including secured credit card information. Cancellations and modifications are automatically adjusted.
One interface
Full control of your rates and room inventory! 
Misterbooking handles your connected distribution channels. You don't have to login to each channel to update your associated inventory and rates. All is in one unique interface, in your PMS Hotel cloud.